ilab2 — advanced networking
The iLabs are a very successful teaching series about distributed systems and networking. Together, the iLabs reached far more than 2000 students between 2004 and 2018. The iLabs currently consist of five courses:
iLab2 - You set the Focus! teaches you selected protocols and mechanisms of Computer Networks and Distributed Systems. The Course also teaches you how to create excellent instruction materials, a skill that you will often need in your professional life.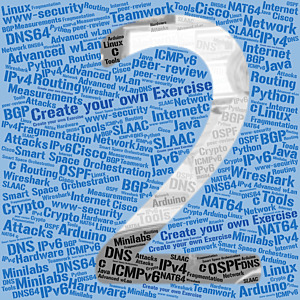 For infos around the next run at TUM follow this link.
In summer term 2010, I used my six years experience with the iLab to guide eight students to create an entirely new exercise that deepens selected research topics from the computer networking chair.
With typically 20 participants per semester, the iLab2 became the lab course for those who already bring some networking experience and want to become real masters. The topic portfolio includes many recent topics such as wireless LAN WPA2 attacks, Internet of Things, or security threats such as the Quantum Insert attack that Edward Snowden revealed.
Thanks to my colleagues that joined the effort with their expertise in different research domains: Andreas Müller, Tobias Bandh, Lothar Braun, Ali Fessi, Dirk Haage, Ralph Holz, Nils Kammenhuber, Alexander Klein, Gerhard Münz, and Johann Schlamp.
The first authors in summer term 2010 were: Rene Brogatzki and Mislav Boras, Jochen Ritzel and Willi Huber, Alexandra Simon and Carl Denis, Safey Abdelhalim and Shady Hussein
Topics

The course covers advanded computer networking topics on master level (10 ECTS).
You can find our current course portal at the Technische Universität München here.
The iLab2 topics include:
Border Gateway Protocol (Pahl, Kammenhuber)
IPv6 (Pahl)
Mini labs:

IP Multicast (Bandh, Raumer)
SCTP (Müller)
Advanced NAT (Müller)
SIP (Bandh, Raumer)
Measurement (Münz, Braun)
IPv6 Firewalling
CoDel
Honeypots
VPN

WWW Security (Holz)
Advanced Wireless LAN (Günther)
Smart Space Orchestaration (Pahl)
Create your own exercise (Pahl)
Create your own exercise
In 2014 I extended the iLab2-concept with a continuous extension element. The students are now developing a mini lab exercise as part of the curriculum. This teaches the students the creation of instruction materials, and of reviewing them. At the same time it continuously evolves the topics that are covered by the iLab2.
My students in 2014 experienced this lab for the first time and did a great job. The topics that were created are:
IPv6 Firewalling (Aneta Stevanovic, Thomas Schultz)
CoDel (Simon Gabl, Peter Gawronski)
Honeypots (Benjamin Braun, Klemens Mang)
VPN (Felix Kuperjans, Benjamin Beier)
It was a pleasure working with you - you did an amazing job!
"Your exercise" turned out to be a great success! Each semester all the teams are preparing one exercise each. The good exercises are available in the next semester as choice for an additional exercise. If chosen we improve the exercise and the students do it in their normal curriculum.
Until 2018 more than 100 so called mini labs were created with the students. The project is a huge success and students always enjoy this experience a lot!